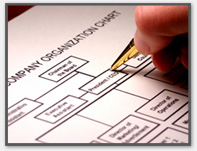 Assess Your Condition –
All organizations must inevitably review and evaluate the structures they have established to determine if they are still viable and truly add to the greater growth. A business or organization is a complex relationship of various disciplines and talents. It progresses forward because it chooses to address challenges and fails due to denying that challenges exist or believes that it must go it alone. RML Corporation brings to your table the proven talent to evaluate all areas of an organization to determine the root cause of problematic issues and provides the hands-on, personal guidance to move you through these concerns. Our expertise lies in a strategic evaluation to maximize the opportunity for refinement, recovery and the re-energizing of the core reason your business or organization exists…. Service to the Customer!
Call upon RML Corporation to revitalize and simplify your efforts economically. Let us assist you to progress through change that benefits the totality of your business or organization. Look upon the following as an overview of the areas we can support you with, then call us to make your efforts unfold.
Management:
How does knowledge, structure, authority, and responsibility relate?
Analysis & Feasibility

Planning & Policy

Organization & Structure

Operations:
Do plans and policies match? What are the real choices?
Administration

Personnel

Production

Purchasing

Methods:
Do you know what information is available, how to refine it, and how to use it simplistically?
Accounting Systems

Cost Systems

Reporting Procedures

Information Technology

Financials:
How do the functions of budget and time relate?
Planning & Economics

Budgeting & Funding

Performance Ratios & Equity

Marketing & Sales:
What is your real market, and how will it sustain your corporate or organizational goals?
Core Research
Advertising

Distribution & Structure

Public Relations

Business in today's environment is complex, but it is not complicated. Success is a matter of applied desire and asking the correct questions. All actions have consequences, intended and unintended, but with a strategic process in place unintended consequences are minimized as well as more easily addressed. It takes the fear, blame and time wasted judgments out of the equation so progress is truly engaged. A strategic perspective requires all to win… no exceptions… so if this is your core desire, a strategic management process is here for you today.
When and Where can RML Corporation assist you to achieve your goals?